After the update that came out last week, Instagram has drastically tightened their limits on the amount of people someone can follow daily or monthly. Because of this, some people have been noticing that they receive a message like this when trying to follow someone: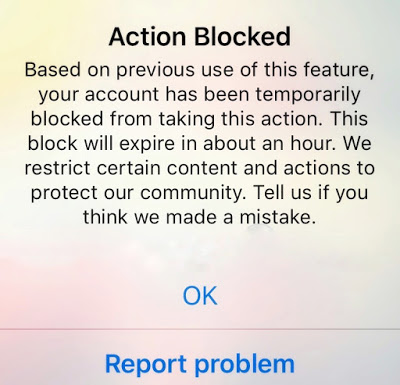 This message simply means Instagram believes you have gone over the limit of people to follow, but in a short time the restriction will be lifted. This is just a temporary restriction, and is not a ban or suspension on your account at all.
The most effective solution to fix this problem is to simply log into your account and go to Settings and click Report Problem. Click Feedback and type something similar to the following:
"Hello I believe I have been restricted from following other people by mistake. Please help me out with this quickly."
Video instructions:
After doing this, Instagram should reach out to you or simply lift the block. Again, this issue is temporary and people will stop experiencing this within no more than a matter of days.
Our team here at Social Network Elite is working to stay compliant with the new rules to ensure this doesn't happen to any of our members in the future, while still providing a quality Instagram growth service.