It's been a few months since Instagram began cracking down on growth services that violated it's Terms of Service. Now, even popular services that claimed to be compliant have been apparently forced to shut down and rebrand.
This has been happening to several companies over the past few months. Most recently, if you've tried to sign up for the popular Instagram growth service Popamatic, you'll see that they show a message that redirects you to "IG Clerk" which they say is the new website.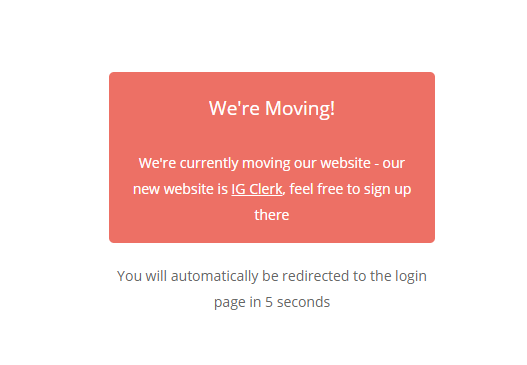 Upon visiting the IG Clerk website it's quite apparent that the design looks extremely similar to Popamatic, and much of the wording is almost exactly the same. However, it's now been reported by people attempting to sign up that the registration is completely closed.

Could it be that Instagram has put pressure on IG Clerk to shutdown as well? Either way, this is not good news for people wanting to use this service to grow their Instagram.
Why Did Popamatic Get Shut Down?
Like many of the other popular Instagram growth services, we believe that Popamatic's activities may have violated both Facebook and Instagram's terms of service.
Many companies decide to simply cut corners by artificially inflating engagement on the social media platform, and it is argued that they disrupted the experience of real Instagram users and created an inauthentic environment for them. The bottom line is, Instagram wants real users in the app engaging in a genuine manner.
What Now?
For those who need help boosting their Instagram growth, there are still alternatives that bring authentic results:
FanBump
FanBump is an Instagram growth service that creates a custom marketing plan specifically for your account. They are all about organic growth and no fake followers. You can expect 1,000 - 2,500 real followers each month. FanBump offers three pricing tiers, starting at $99 per month.
Social Buddy
Similar to FanBump, Social Buddy focuses solely on Instagram growth. They help to organically grow your following and engagement through genuine actions. Social Buddy advertises that they specialize in real growth from real followers. You can expect 150 - 500 new followers every week for $59 per month.
Social Network Elite
Here at Social Network Elite we provide authentic noticeable results to help expand Instagram growth fast. Our goal is to build your account authentically in order to help you monetize it. By targeting your ideal audience, we catch the attention of real people who are likely to be interested in your account. Choose the plan that fits your needs and get started today!